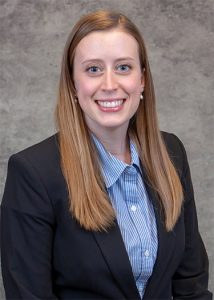 Dr. Megan Sofka, Class of 2020 alumna, has returned to the state of New Mexico to open her very own osteopathic medicine practice, focusing on Osteopathic Neuromusculoskeletal Manipulative Medicine. Using the lessons she learned during her time at Burrell College and as a resident physician, Dr. Sofka aspires to support patients at all stages of life by reducing their pain, assisting in their ability to remain functional as they age, improving the healing process, and much more. She founded her medical practice, Desert Sky Osteopathy, with the mission to optimize every person's unique ability to heal themselves using osteopathic manipulative treatment. Osteopathic manipulative treatment is a gentle, hands-on treatment that employs the body's skeletal landmarks to guide physicians to where treatment is most necessary for a patient.
Dr. Sofka grew up in Las Cruces, as a member of a medical family, where she learned the personal fulfillment of serving others. "My parents emphasized the importance of perseverance and a strong work ethic to achieve the goals in your life," recalls Dr. Sofka. "They taught me receiving a well-rounded education was foundationally significant towards understanding how to take care of others along with yourself. I am proud to say I was and still am a Tombaugh Comet, Sierra Falcon, Las Cruces Bulldawg, UNM Lobo, and Burrell Bear." Dr. Sofka emphasizes that her grandparents did not have the same educational opportunities she was afforded, which is why she made the most of the opportunities she was presented with. "I believe my life exemplifies the American Dream, which still exists as long as you make sacrifices and are willing to work hard for it," she says. "My grandparents never attended college, my grandfather had to leave school at 12 to become a coal miner to provide for his family, and my grandmother never knew how to drive a car."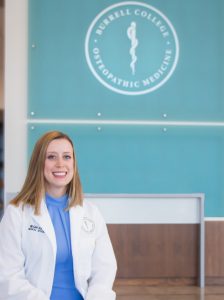 Dr. Sofka attended the University of New Mexico with the help of a lottery scholarship, graduating with a Bachelor of Science in Biology with double Honors designation of magna cum laude and cum laude before arriving at the Burrell College of Osteopathic Medicine in 2016. Although she didn't always know she wanted to be a physician, Dr. Sofka has always known she wanted to help people in whatever career she chose to pursue. "I was very lucky to have received care from physicians that showed me empathy, bravery, and I was worth more than 15 minutes in the examination room, and that greatly impacted my choice to become a physician," recounts Dr. Sofka.
Dr. Sofka chose osteopathic medicine with the advice from her mother, who recommended she shadow an osteopathic physician to observe how they care for the whole person, rather than just their symptoms. "All of a sudden, my mom called me one day telling me that a new medical school was opening up down the street from where I grew up," recalls Dr. Sofka. "She took pictures of the Burrell College sign and the construction of two-by-fours boards standing as walls. I applied to BCOM in their inaugural class due to my love for New Mexico and its future. Continuing my education at BCOM would also mean I could still be present for important life moments for my family. I can say today that I was meant to attend and graduate from Burrell because I was there when my family needed me the most while pursuing my dream."
Dr. Sofka admits she used to be a skeptic of the benefits of osteopathic manipulative medicine before learning the principles and practices within the curriculum at Burrell College. "I used to make jokes and deny the utility of Osteopathic Manipulative Medicine, where I would never perform the procedures on actual patients," says Dr. Sofka. "While in medical school, a loved one experienced severe back pain that was debilitating. After seeing doctor after doctor, trying physical therapy, and receiving medications for pain including opiates, the pain did not improve, and working was now becoming unbearable. I suggested Osteopathic Manipulative Treatment (OMT) may help. Two months later with OMT performed by myself, the back pain had mostly subsided, and working was comfortable again. I observed the usefulness of OMT in real time to make patients' lives stay functional and with less suffering." Now, Dr. Sofka is utilizing those same principles in her own practice to improve the lives of her patients.
After graduating, Dr. Sofka continued her medical training by specializing in Osteopathic Manipulative Medicine/Osteopathic Neuromusculoskeletal Manipulative Medicine (OMM/ONMM) at St. Barnabas Hospital in the Bronx, New York. The program in which Dr. Sofka studied was established by Dr. Hugh Ettlinger, a protégé of Dr. Anne Wales, who studied under Dr. Sutherland, a DO who discovered osteopathic medicine's applications in the cranial field as a student of Dr. Andrew Taylor Still, the founder of osteopathic medicine. "My residency program gave me a rich experience of how to take care of complex medical and surgical cases, including ICU patients during the COVID pandemic in New York City," recounts Dr. Sofka. "I used conventional medicine and osteopathic manipulative treatment to help facilitate my patient's healing journey. Alongside patient care, I had the opportunity to teach in the OMM Department at the New York Institute of Technology College of Osteopathic Medicine on Long Island."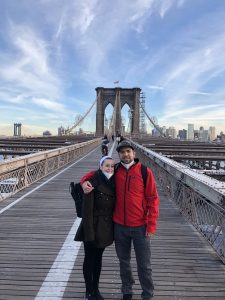 Dr. Sofka credits Burrell College for adequately preparing her for the challenges and pitfalls of residency training, helping her adapt quickly to the obstacles that she would face in her graduate medical education. She emphasizes how Burrell's reinforcement of medical disparities and their impact helped her be more aware in her residency training, allowing her to advocate better both for her patients and her fellow residents. "Graduating from medical school in 2020 and entering the medical field during the COVID-19 pandemic was a very stressful time to start a career as a physician," recalls Dr. Sofka. "My residency years were filled with ever-changing challenges that tested my body, mind, and spirit; however, I grew immensely to be an improved version of myself and my knowledge of osteopathy."
Dr. Sofka always intended to return to the state of New Mexico following the completion of her residency training, and now, she has done so, having opened her very own medical practice. "I saw Albuquerque as a crossroads that unifies the Northern and Southern parts of the state and supports much of the state's medical needs," she explains. "Starting my own practice gave me the opportunity to give back to the state I love. I also wanted to create a practice that would place humanity back in medical care where it would help support patients at various stages throughout life. Osteopathy or Osteopathic Medicine provides a supportive role in all stages of life with multiple benefits including reduction of pain, maintaining, or improving functional status as we age, reducing sports-related injuries, and improving the healing process."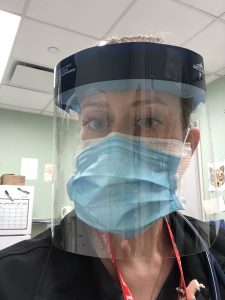 Dr. Sofka's primary goal is to return compassion to healthcare, to ensure that her patients feel heard and that their concerns have been acknowledged. She hopes to utilize her expertise in osteopathic manipulative treatment to help them feel less discomfort and improve their overall quality of life. "Desert Sky Osteopathy's Mission Statement is to acknowledge and respect your state of health today," states Dr. Sofka. "We strive to optimize every person's unique ability to heal themselves using osteopathic manipulative treatment. The use of osteopathic manipulative treatment (OMT), a gentle hands-on treatment that uses your body's skeletal landmarks to guide where the treatment is most necessary. How often do you leave a doctor's office not feeling like the unique person you are? Often feeling confused by the number of instructions, or simply not feeling better after going to the doctor? I became an Osteopathic Manipulative Medicine (OMM) specialist to get to know my patients, their daily lives, and what they hoped to get out of their OMT visit."
Dr. Sofka advises any student thinking of attending Burrell College to consider the long road to becoming a physician. "Be real with yourself about why you decided to become a physician that illustrates multiple roles including a healer, lifelong student, educator, and advocate for the needs of your patient, community, and the medical field at large," she says. "The Burrell College of Osteopathic Medicine seeks individuals who strive to serve the healthcare needs of the border region that is in need of caring, culturally sensitive physicians. It should also be known that if you are admitted, you will be welcomed into an extended family that helps one another on their medical journey while in medical school, residency, and later while in practice. This family is a gift and hard to find in many medical schools across the nation."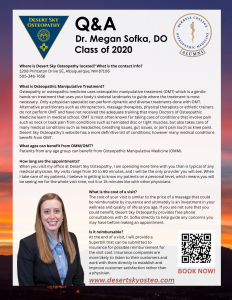 Desert Sky Osteopathy Q&A
Where is Desert Sky Osteopathy located? What is the contact info?
1208 Princeton Drive SE, Albuquerque, NM 87106
505-346-7656
What is Osteopathic Manipulative Treatment?
Osteopathy or osteopathic medicine uses osteopathic manipulative treatment (OMT) which is a gentle hands-on treatment that uses your body's skeletal landmarks to guide where the treatment is most necessary. Only a physician specialist can perform dynamic and diverse treatments done with OMT. Alternative practitioners such as chiropractors, massage therapists, physical therapists or athletic trainers do not perform OMT and have not received the adequate training that many Doctors of Osteopathic Medicine learn in medical school. OMT is most often known for taking care of conditions that involve pain such as neck or back pain from conditions such as herniated disc or tight muscles but also takes care of many medical conditions such as headaches, breathing issues, gut issues, or joint pain (such as knee pain). Desert Sky Osteopathy's website has a more definitive list of conditions; however many medical conditions benefit from OMT.
What ages can benefit from OMM/OMT?
Patients from any age group can benefit from Osteopathic Manipulative Medicine (OMM).
How long are the appointments?
When you visit my office at Desert Sky Osteopathy, I am spending more time with you than is typical of any medical physician. My visits range from 30 to 60 minutes, and I will be the only provider you will see. When I take care of my patients, I believe in getting to know my patients on a personal level, which means you will be seeing me for the whole visit time, not 5 or 15 minutes like with other physicians.
What is the cost of a visit?
The cost of your visit is similar to the price of a massage that could be reimbursable by insurance and ultimately is an investment in your wellness and quality of life as you age. If you are not sure that you could benefit, Desert Sky Osteopathy provides free phone consultations with Dr. Sofka directly to help guide any concerns you may have before making an appointment.
Is it reimbursable?
At the end of a visit, I will provide a Superbill that can be submitted to insurance for possible reimbursement for the visit cost. Insurance companies are more likely to listen to their customers and work with them directly to establish and improve customer satisfaction rather than a physician.