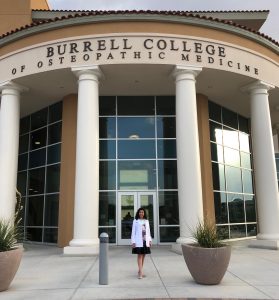 Dr. Cynthia Annette Reyes graduated from the Burrell College of Osteopathic Medicine on May 5th, 2023. For all medical students, graduation is a major milestone, an immense accomplishment that comes after years of hard work. For Dr. Reyes, this moment was made all the more important because as a teenager, she and her family were not sure if she would live long enough to even make it to her high school graduation. With the help of her care providers, Dr. Reyes defied the odds.  
"Seemingly from one day to the next my life completely changed," says Dr. Reyes. "I did not realize the progression of my symptoms – fatigue, easy bruising, nausea, metallic taste, and ultimately vomiting – warning signs my kidneys were failing. I attributed my symptoms to something else, mainly stress from a heavy course workload and what I hoped was just a 'stomach bug.' I remember hearing my own pediatrician tell me a room would be waiting for me at the hospital and to go there immediately. That day I found out that not only did I have kidney disease but was already in the last stage and would need emergent hemodialysis. During hemodialysis I would sit and come to terms with my diagnosis – at the age of 16 I had end-stage renal disease (ESRD) and would need a kidney transplant to live."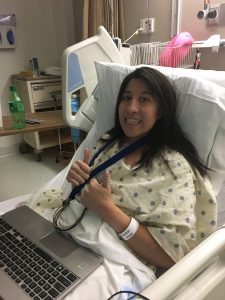 At the time of her diagnosis in 2010, her hometown of El Paso, Texas lacked a pediatric nephrologist, making Dr. Reyes all too aware of the ways that lack of medical access can impact health outcomes. Due to the life-threatening circumstances of her condition, she was contacted by the Make-A-Wish Foundation, which wanted to help her fulfill a dream of hers. "Humbled, I felt others were more deserving of a wish," said Dr. Reyes. "I felt fortunate for what I had and didn't want to be a burden. The wish managers said, if I could wish for anything, what would I wish for the only wish in my heart was to make lives better for children suffering from kidney problems who would come next. After some reflection, I made my wish to bring a pediatric nephrologist to El Paso." This physician would help improve the health of many children in the region. Dr. Reyes even went on to shadow that very same physician years later, helping to further inspire her dream of also becoming a pediatric nephrologist, to help others in the same way that she was helped.  
Dr. Reyes graduated from Bel Air Center for Health Professions High School, spending her junior year in full-blown kidney failure. She spent nearly a year on nightly 11-hour peritoneal dialysis before undergoing a life-saving kidney transplant. "A complete stranger made the ultimate sacrifice and lives on through me," recalls Dr. Reyes. "Through her dying, I was given the gift of life; one I do not take for granted. I am eternally grateful to my organ donor, my angel, and hope to honor her memory."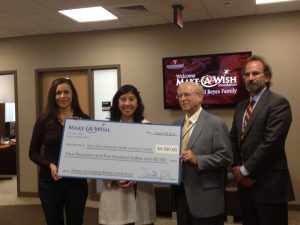 After graduating from high school as a licensed vocational nurse (LVN), Dr. Reyes gained exposure to the medical field by volunteering at multiple health clinics in the Paso del Norte region. She went on to receive her bachelor's degree with honors in Biomedical Science from the University of Texas at El Paso. During her undergraduate education, Dr. Reyes participated in the Texas Tech University of Health Sciences Summer Accelerated Biomedical Research program (TTUHSC SABR), conducting research on Parkinson's disease, for which she earned a first-author publication. "Shadowing physicians was the highlight of my undergraduate studies," says Dr. Reyes. "It was inspiring to get an inside glimpse into what the day-to-day life of a physician is like and how medicine is an art. It left an impression on me, how these physicians did more than diagnose and prescribe medications but took the time to know their patients and treated them as a whole." She credits one physician she shadowed during undergraduate studies with influencing her to obtain a Master of Business Administration from Rawls College of Business at Texas Tech University in Lubbock. Her time volunteering with another physician, a D.O., inspired her to pursue a doctorate of osteopathic medicine. "I applied to Burrell College of Osteopathic Medicine (Burrell COM) because I aligned with its mission, "For the people and the future," which I have undertaken as my life-long duty to care for the people in my lovely community and create a better future for the next generations," emphasizes Dr. Reyes.  
After Dr. Reyes was accepted to Burrell College of Osteopathic Medicine, she was offered the largest scholarship opportunity, the Yates Scholars Program. This unique pledge-to-practice program offers significant financial assistance to exemplary students of Burrell College in exchange for a commitment to practice within the medically underserved region of Eastern New Mexico after completion of residency training. "It is an honor to be a Yates scholar as only 8 inaugural recipients out of the entire class of 162 were selected," says Dr. Reyes. "Having this scholarship pushed me to do well in school and hold myself to a higher standard."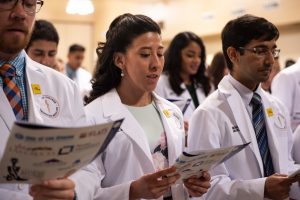 Dr. Reyes, inspired by the experiences she had as a child, pursued a career in medicine and in March 2023, she placed into her post-graduate residency training program, in pediatric medicine at Texas Tech in El Paso. She hopes to be able to provide the same support she received to children just like her. "I wanted to pursue medicine ever since I could remember," recounts Dr. Reyes. "One of my earliest memories was when I was three years old on the phone with my cousin saying I wanted to be a pediatrician, although I wouldn't be able to pronounce the word correctly for a couple more years. The only example I had (at the time) was my own pediatrician. He saw me grow up and as I grew asked questions about my life. I looked forward to telling him I wanted to be like him – a doctor who was empathetic, knowledgeable, kind, and who always left me feeling better than when I arrived."  Dr. Reyes' parents have been repeatedly impressed by the exponential achievements of their daughter. She recalls their reaction to her placement in the pediatric residency program as completely overjoyed, exclaiming, "We know how much you have wanted this and are immensely proud of you. Congratulations our soon-to-be doctor."  
As she prepares to enter her residency training program, Dr. Reyes has big goals for the next phase of her career. "Ideally, I would continue my training and subspecialize in pediatric nephrology," she explains. "My reason for going into medicine and the energy that fuels my passion to keep going are the same – my kidney transplant. I dedicate everything I work hard to achieve and aspire to be to my deceased organ donor. Coming full circle twelve years later, I see my younger self and am continually inspired by the resilient nature of children. It is an absolute privilege to see patients at their most vulnerable and help treat them, making a small difference in their lives. I aim to practice right here in the Paso del Norte region and give back to the community which has given me so much."  
Dr. Reyes has so many people in her life to thank for their support and encouragement along her journey, the first of which being her parents, who helped her every step of the way toward her dream. She is also grateful to the rest of her family for cheering her on to success, as well as the friends she made while in medical school, including her fellow classmates, faculty members, and supportive staff. Finally, Dr. Reyes is thankful for her organ donor. "I am eternally grateful to my organ donor who in dying allowed me to live," emphasizes Dr. Reyes. "I hope to honor her memory in everything I do."