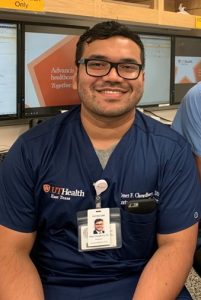 Class of 2020 alumnus Dr. Omer Chowdhury graduated from the inaugural class of Burrell College of Osteopathic Medicine and went on to specialize in Internal Medicine at the University of Texas Health Science Center (UTHSC) in Tyler, Texas. Following the completion of his residency training program, Dr. Chowdhury continues his training at UTHSC Tyler, having entered their competitive gastroenterology fellowship program this year.
Dr. Chowdhury is originally from Richardson, Texas, roughly one hundred miles from where he currently trains in Tyler, and received his undergraduate degree from the University of Texas at Dallas in 2014, a Bachelor of Arts in Biology, with Honors. He relocated from Texas to neighboring New Mexico in 2016, to begin his studies at Burrell College, a member of the very first class of medical students ever to walk their halls.
"Burrell just felt right," recalls Dr. Chowdhury. "I know it's not the nuanced answer that many of my colleagues would provide but for me, as soon as I drove into Las Cruces and met the faculty, I knew this was the place. As a matter of fact, when I interviewed, the BCOM building itself was under construction. After speaking with the faculty and administration during interview day, I immediately accepted their vision of the school. It was refreshing to see how excited everyone was about the new medical school, especially the local community who embraced us with open arms. There is no doubt this enormous project would have growing pains but being part of the inaugural class would also come with tremendous learning opportunities. Fast forward 7 years and I am so glad I chose BCOM, and I would do it all over again."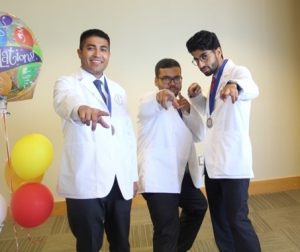 Four short years later, Dr. Chowdhury and his peers graduated as Doctors of Osteopathic Medicine in the most unprecedented circumstances: a global pandemic. He and the rest of his classmates went onto their residency training unsure of what the future held for them, and trained in some of the most daunting, exhausting, and difficult conditions ever to face the healthcare industry. Those conditions, while unideal, helped Dr. Chowdhury become the doctor he is today, experienced, and capable of handling anything that comes his way as he works within the Gastroenterology Department at UTHSC Tyler.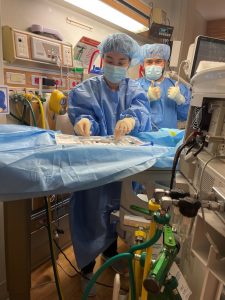 Dr. Chowdhury believes that his experiences at Burrell College better prepared him for his time in residency training, allowing him more one-on-one interactions with professors and attendings in his studies. "I believe that the learning experience was the foundation to both matching into my top-ranked program and being prepared during residency," states Dr. Chowdhury. "During our clinical rotations, we had a good mix of rotations in academic teaching settings as well as with private physicians' groups. The former prepared us for the day-to-day life of residency while the latter gave us a glimpse of the private side of medicine."
Dr. Chowdhury does express that residency training has been extremely difficult, particularly during the intern year, but that it is important to trust the process, and that it does get better. He also expresses how much easier it feels when the people you work with become more like family than colleagues. "I am very blessed in that most of my co-residents have become my family for life," he emphasizes. Dr. Chowdhury did his very first years of residency training during peak COVID, a situation he is not soon to forget. "I vividly remember those days where PPEs were limited, and re-using masks was a common sight," he remembers. "But, as my attending once said during intern year, 'during residency, the days are long, but the years are short.' That statement could not be truer."
Dr. Chowdhury is excited about the progress of his Gastroenterology Fellowship. "I knew from my medical school days at Burrell that GI was the field for me," he emphasizes. "It has been a long journey, but I am extremely excited to start this new chapter of my life. Most importantly though, I am just looking forward to blasting some Kendrick Lamar in the GI suite during procedures."
For current Burrell College medical students, Dr. Chowdhury provides some sage advice. "The education you receive at Burrell will prepare you for whatever specialty you decide to pursue," he states. "There is no doubt about that. More importantly, though, I would say to go with your guts and trust the process. Getting into medical school is tough and the road to becoming a physician is not always smooth. Sometimes it is a gravel road with a lot of potholes. But stay the course. The people you meet in medical school will become some of your closest friends. You all may go your separate ways, but you will always stay connected. And I for one can speak from experience to that fact."