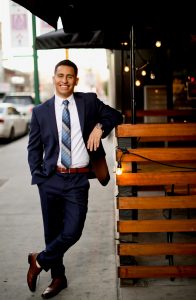 Dr. Andrew Ortega is a graduate of the Burrell College Class of 2020 and current Internal Medicine resident at the Texas Tech University Health Sciences Center in El Paso, Texas, located just a short drive from the Burrell College of Osteopathic Medicine's main campus in Las Cruces, New Mexico. In 2022, Dr. Ortega was placed into a Gastroenterology fellowship at Indiana University School of Medicine in Indianapolis. This fellowship is a three-year ACGME-accredited program that features an individualistic curriculum style tailored toward each fellow's career goals. The program is considered of one the most robust gastrointestinal and advanced therapeutic endoscopy fellowships in the nation. Its former fellows now hold leadership positions at academic medical centers across the U.S. and are successful practicing physicians in the field of gastroenterology.
Prior to his arrival at Burrell College, Dr. Ortega attended the University of Texas at El Paso and graduated in 2013 with a bachelor's degree in biological sciences with a biomedical concentration. Dr. Ortega has always believed that a career in medicine would allow him to best help others. "I don't think there was one distinguishing or life-altering "moment," recalls Dr. Ortega. "Instead, it was a series of personal and professional moments that fit so perfectly together like beads on a string that pulled me towards the path of medicine."
Dr. Ortega was drawn to the Burrell College of Osteopathic Medicine because of its vision and focus on the community he was raised, the Southwest. "The mission statement "para la gente y el futuro" [for the people and the future] resonated with me as their mission statement had an emphasis on addressing the physician shortage in the Southwestern United States region," he says. "After interviewing with Burrell College, I felt as if I had found a home. The support system and passion in place for its incoming inaugural class were palpable. I received my acceptance email later, and I remember the joy that overwhelmed me. I would choose Burrell College over again each time."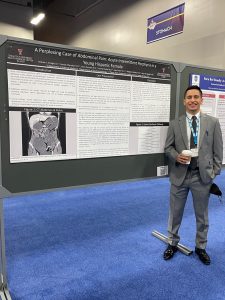 During his time at Burrell College, Dr. Ortega received multiple awards and honors, including the Amy & John L. Hummer Scholarship (now the Dr. Lloyd M. Hummer Memorial Scholarship), the Woody L. Hunt Scholarship, and the Edward N. and Margaret G. Marsh Foundation Grant for research. He also held professional memberships with American Medical Association (AMA), American Osteopathic Association (AOA), Latino Medical Student Association (LMSA) – Founding Vice President, Student National Medical Association (SNMA), and the Student Osteopathic Internal Medicine Association (SOIMA).
In addition to his academics, Dr. Ortega also spent a significant amount of his limited free time as a medical student volunteering, serving the community in several capacities including as a medical volunteer providing basic wellness assessments for migrants in El Paso and working as a soccer camp leader for children with special needs in Las Cruces.
Dr. Ortega has worked hard in his Internal Medicine residency at Texas Tech University Health Sciences Center – El Paso, enjoying every moment. "As the perceived notion goes, residency is tough," he says. "No matter where you go, you will work long hours and care for many patients throughout your time. My time in residency has been great. The support from leadership has been nothing short of excellent." Dr. Ortega is grateful for the preparation he received while he was a medical student. "I believe what you put into life and your actions, you get back many times over," recalls Dr. Ortega. "Burrell prepared me with a profound fund of knowledge that served me well as a medical student, resident, and future fellow. Objectively, I received an excellent education. Subjectively, the people that made up the leadership, the faculty, and the student body were terrific. I couldn't have had a better group to break the inaugural grounds with."
Dr. Ortega chose to pursue a fellowship in Gastroenterology because of the complexity of the digestive system's pathology and its emphasis on procedures. "The world of poop is a fascinating one!" he quips. "I look forward to specializing in Gastroenterology because it is the field I am most passionate about—the diverse array of exciting pathology (both acute and chronic conditions). There isn't a micrometer within GI that doesn't have a multitude of layers and things to learn. The procedure-heavy aspect is also a significant draw for me. A vast number of procedures are done on a routine basis (screening colonoscopies or EGDs) or in an emergency (acute bleeds or foreign body ingestion). Beyond the scope (pun intended), The people I have encountered within the GI field have significantly influenced my pursuit of becoming a gastroenterologist; throughout residency, I felt the most comfortable with the GI department."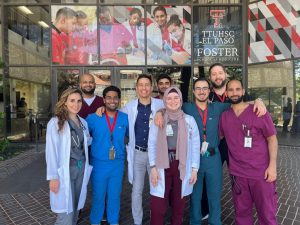 On top of his resident workload, Dr. Ortega has continued his ambitious nature through leadership and community service, serving as a resident wellness leader, QI cohort project co-leader, Point of Care Ultrasound (POCUS) Curriculum co-developer, volunteer physician for local health fairs, and mentor within the TTUHSC Big Sibling/Little Sibling program.
For anyone who is considering applying to the Burrell College of Osteopathic Medicine, Dr. Ortega strongly encourages them and provides them with some key words of advice: "At Burrell, you will learn a lot, and you will work very hard (harder than you probably have), but there is a support system in place with wonderful people behind you every step of the way. At Burrell, you can achieve whatever career path you choose. At Burrell, your potential is what you make it."