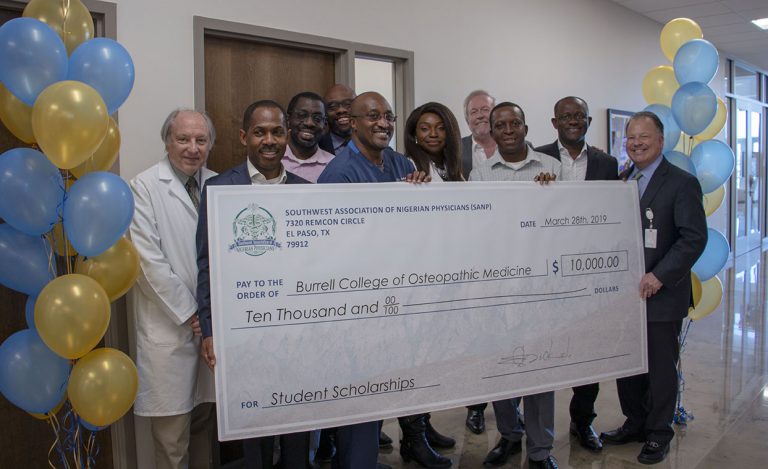 On Thursday, March 28, the Southwest Association of Nigerian Physicians (SANP) presented a check for $10,000 to the Southwest Foundation for Osteopathic Education and Research (SWFOER), now renamed as the Coalition for Osteopathic Excellence. The gift will help fund future scholarships for medical students pursuing a Doctorate in Osteopathic Medicine (D.O.) at the Burrell College of Osteopathic Medicine (BCOM).
SANP Check Presentation"We are proud to support BCOM and its mission to build the physician workforce," says Obi Okoli, MD, MPH, an infectious disease physician in Las Cruces and member of SANP. "Next year, BCOM will graduate 160 new physicians, many of who will hopefully stay here in the Southwest. That's something we want to invest in and be a part of."
After the check presentation, SANP members toured the medical school. BCOM leadership also unveiled the newly named Southwest Association of Nigerian Physicians Study Room.
Located on the ground floor, the medical student study room is a high-traffic space, particularly during interview season when medical school applicants are invited to campus to meet with faculty and staff. "As a small token of our appreciation, we decided to rename the study room in honor of the SANP," says Victoria Pineda, director of institutional advancement at BCOM. "We're always trying to build scholarship opportunities for our students, so we're thrilled that SANP is making this commitment. And SANP isn't just supporting students financially—many of its members allow our students to shadow them. It's so exciting to work with an organization of doctors who are so willing to serve in so many different ways."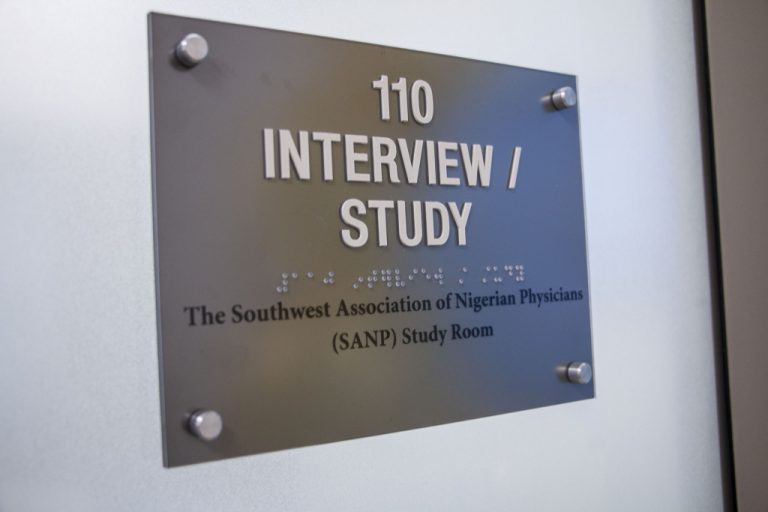 At least five SANP physicians currently serve as preceptors for BCOM. That means the physicians have volunteered to allow medical students to rotate through their clinical space and help care for patients. This hands-on training is a medical student's first opportunity to work directly with patients and learn about the different medical specialties.
Dr. Okoli, who has served as a preceptor since BCOM first opened in 2016, enjoys working with students and offering guidance.
He says, "It's great to work with students who aren't just from Las Cruces, but all over the U.S. I hope the SANP is making them feel welcomed and supported and that they are considering a future here in Las Cruces or the Southwest."
The SANP scholarship funds will be merit-based and competitively awarded to BCOM students in the future.
Pineda says, "I look forward to this lasting partnership and an annual gift from the SANP to support our students."